Art and science working in synergy have the capacity to unveil aspects of the natural world that would otherwise remain hidden. Numerous individuals dedicate their craft to raise awareness of the need to protect and restore Ireland's natural environment. In this series of articles, we will showcase some of their amazing work inviting people to engage with nature.
Tina Claffey is an award-winning nature photographer and author from County Offaly. With a degree in photography, she worked in the fashion industry for many years until a particular assignment brought her to the African continent. This opportunity ignited her passion for the continent's pristine landscapes. After nearly a decade of photographing Botswana's wildlife, Tina returned to Ireland with a mission to capture the natural beauty of her homeland.
In 2012 Tina joined John Feehan in Killaun Bog in Offaly for a field walk. John gave all the attendees a small hand lens, a memento that Tina still treasures. The experience proved pivotal and altered Tina's life trajectory. Tina says she fell through her macro lens into the living bog world just like Alice fell into Wonderland. Thus began her exploration of Ireland's wetlands.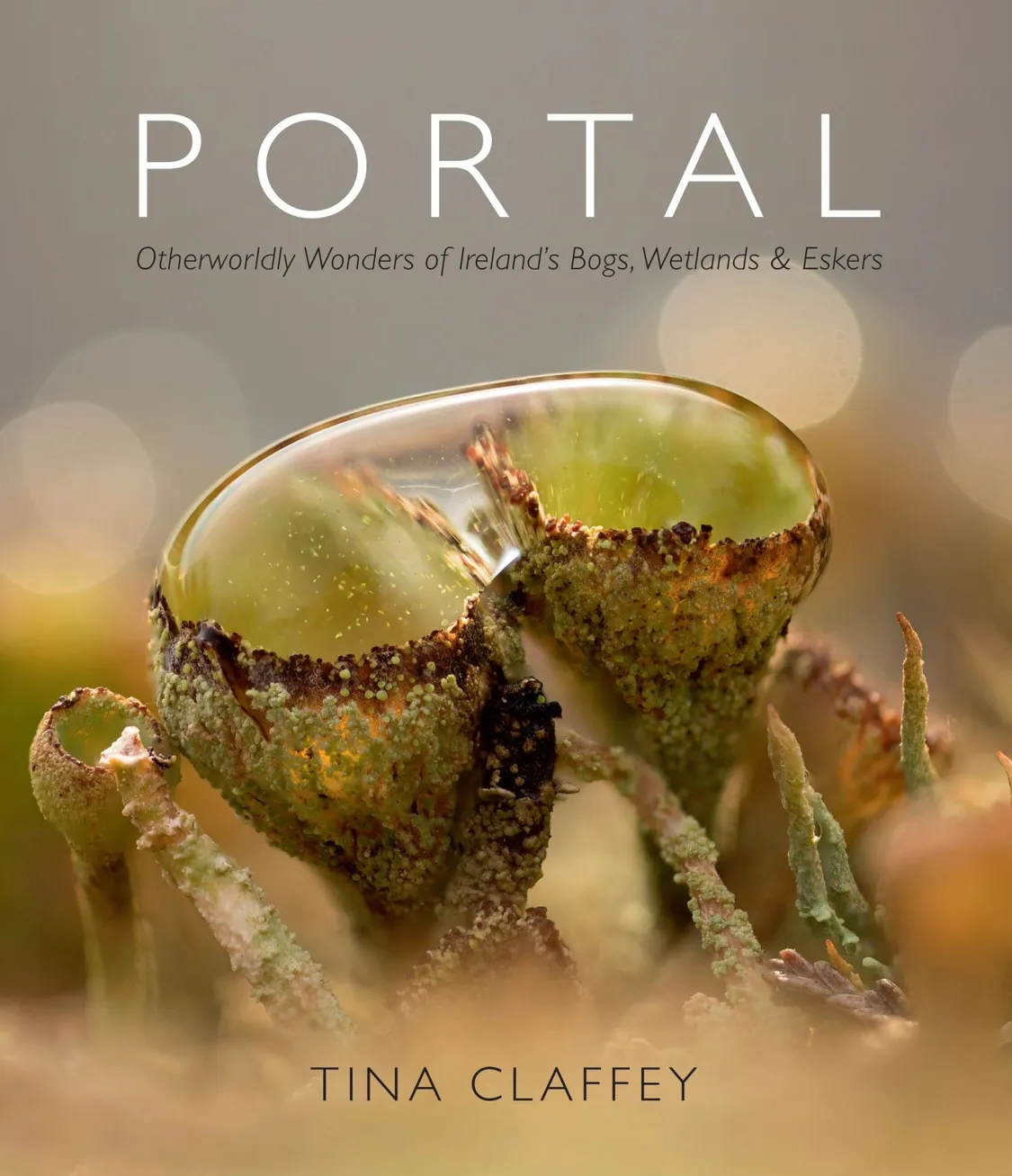 Tina Claffey's second book cover.
Tina has published two books, 'Tapestry of Light' and her most recent one published in 2022, 'Portal'. The title alludes both to Tina's macro lens as a gateway and also to the Irish for bog, portach. The book delves into the enchanting flora and fauna found in the Irish peatlands and has already received an Honourable Mention in the International Photography Awards. Both books were sent to Sir David Attenborough, who expressed his gratitude and admiration for her work in a warm handwritten letter. Find out more about 'Portal' here.
One remarkable aspect of Tina's work is its ability to capture the bog in all seasons. Autumn holds a special place in the photographer's heart due to the blend of vibrant summer biodiversity and the emergence of warm colours. However, one of her favourite photographs entitled 'Frozen Sphagnum' is set in winter. She hastily took the photograph of Sphagnum Moss, unsure if it was in focus. The moss is very important to the habitat structure and thrives on intact peatlands. Upon returning to the warmth of her home, Tina realised she had captured one of the most magical perspectives of the bog builder, frozen in time.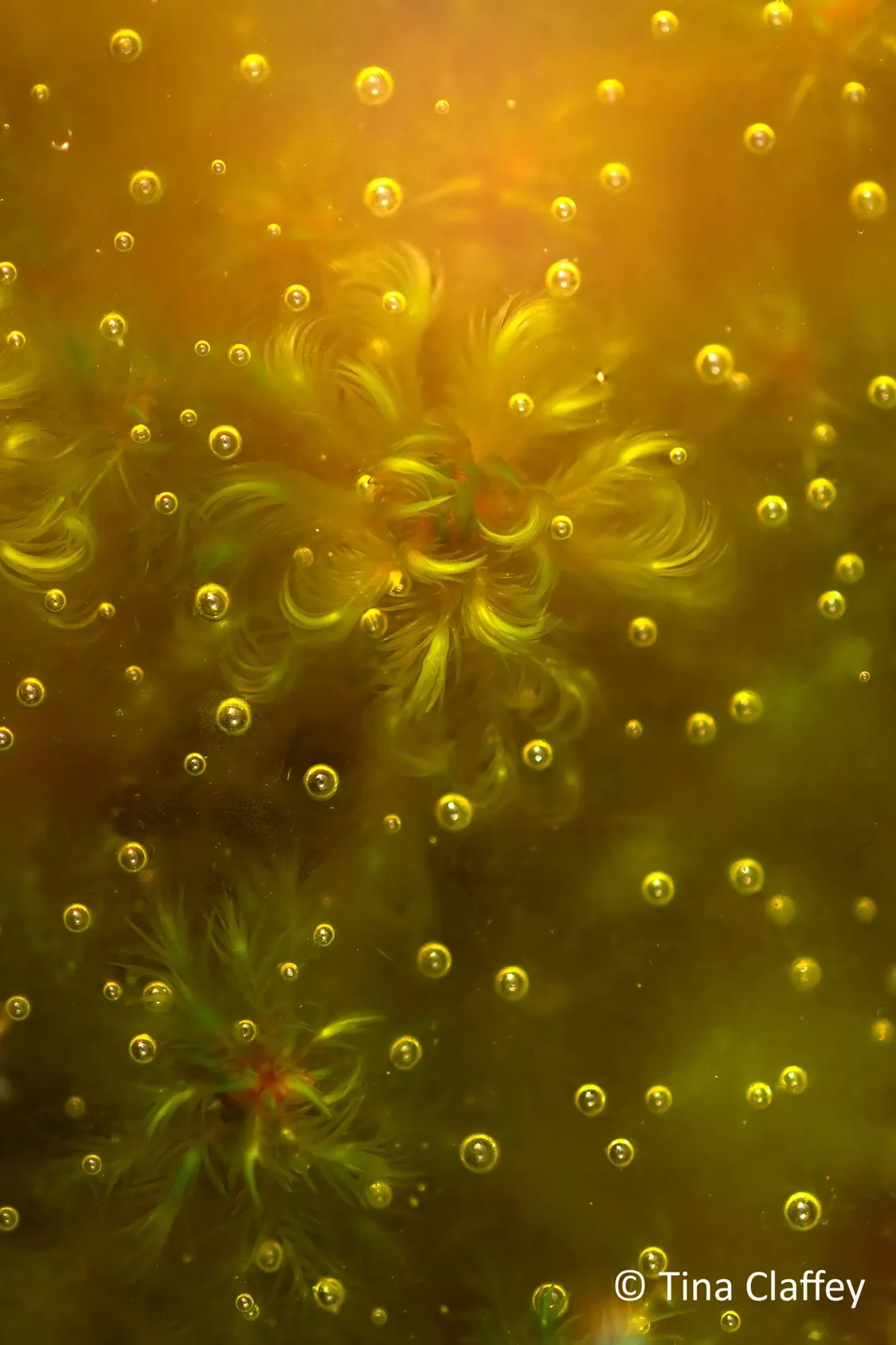 Frozen Sphagnum © Tina Claffey
Many other forms of life coexist in Irish peatlands, like the sundew featured in the cover of Tina's first book, where it can be seen in detail, although the plant can be as small as only 1 centimetre. This was one of the many plants and other features of the bogs Tina had the opportunity to present at COP 26 as a representative of the Irish Peatlands Gathering.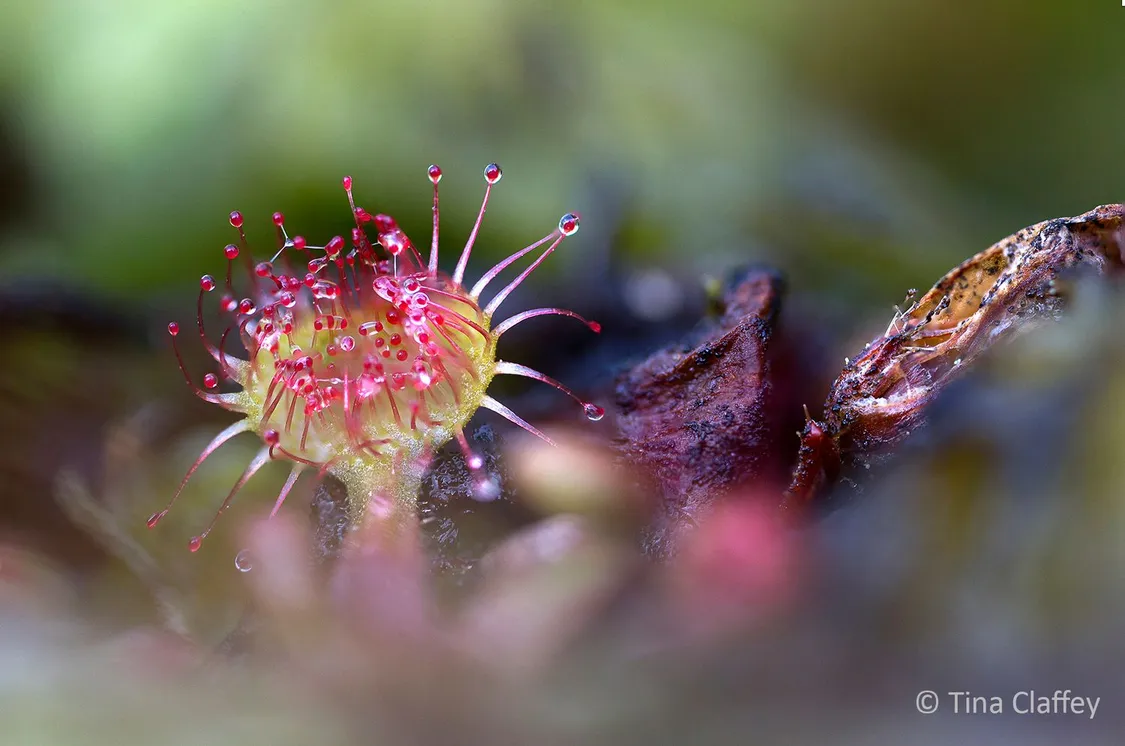 Round leaved Sundew © Tina Claffey
Tina Claffey, along with many other Irish creatives, plays a crucial role in reshaping the public's perception of bogs, a vital step in raising awareness and safeguarding these habitats.
Tina Claffey's work was recently part of an immersive installation at the Stables, Castletown House in Celbridge, Co. Kildare, and is currently featured at IMMA's Earth Rising Festival in September. "The Peatlands" installation will be at the Copper Tree Gallery at Birr Castle from the 2nd October. See here for more details.