Peatlands and Art continues, this time highlighting the remarkable work of Kathrine Geoghegan. In the previous article in this series, Tina Claffey shared her journey, a path that intersected with Kathrine's in the mesmerizing video installation 'The Peatlands'.
Based in County Kildare, Kathrine has woven an unconventional yet profoundly meaningful relationship between her art and the natural world. Her upbringing in suburban Dublin, amid the creative energies of her artist mother and engineer father, instilled in her a deep appreciation for the splendours of nature. However, it was her summers in West Kerry and later visits to Tarmonbarry, County Roscommon, that kindled her fascination with peatlands.
In recent summers, Kathrine has made an annual pilgrimage to Tarmonbarry. Here, on a raised bog, she discovered the myriad hues of sphagnum mosses, the delicate yet robust fleeces of bog-cotton, the carnivorous native sundews, and the extraordinary Canadian pitcher plants. These resilient life forms, thriving amidst acidic harshness, became symbols of nature's adaptability. Inspired by these encounters and driven by a profound sense of responsibility, Kathrine embarked on a mission to protect these vital habitats.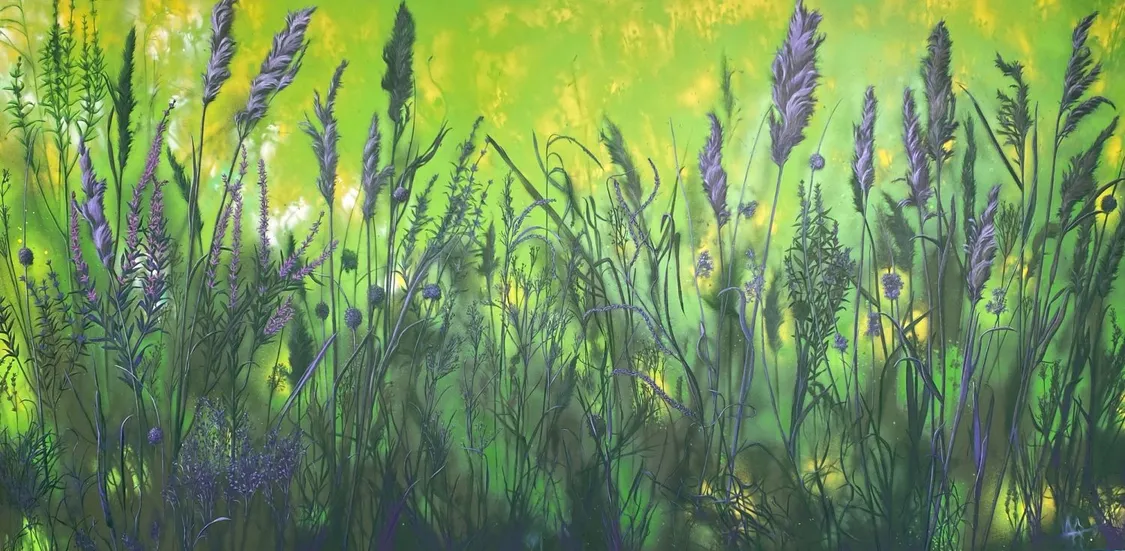 High Summer Pollardstown Fen ©Kathrine Geoghegan
Her father's legacy, as a Bord na Móna engineer who was ahead of his time in recognizing the unsustainability of peat harvesting practices, further fuelled Kathrine's determination. The emotional connection many Irish people share with turf fires, their warmth and aroma, adds depth to the significance of peatlands in Ireland's cultural narrative. Kathrine's art became a response to the fragile beauty of these peatlands and their crucial role in the fight against climate change.
Largely self-taught, later in life Kathrine decided to pursue her passion for art by enrolling in the National College of Art and Design. Her paintings, more than mere representations, offer an insect's-eye view of the world, capturing the subtle intricacies of Ireland's biodiversity. Through her projects, she delves into specific habitats, shedding light on the importance of native plants often labelled as weeds, which play a vital role in preserving biodiversity.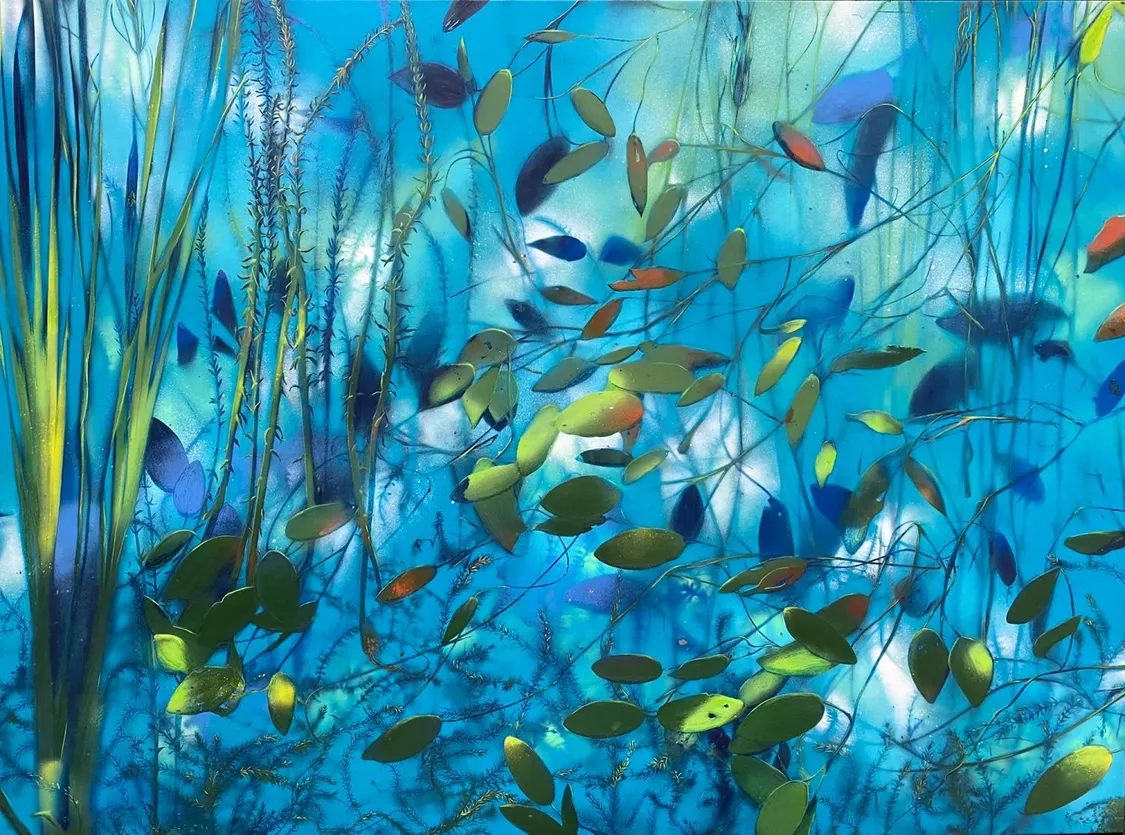 Sanctuary ©Kathrine Geoghegan
Her recent exhibition, 'Bogland,' at The City Assembly House in Dublin, celebrated the beauty and importance of these habitats. The exhibition not only showcased her paintings, but also included an installation of footed turf, emphasizing the cultural value of these landscapes in Irish heritage. Kathrine is also a pivotal contributor to 'The Peatlands,' an immersive video installation currently displayed at the Copper Tree Gallery in Birr Castle. This artistic endeavour, harmonizing art, and science, offers viewers a transformative experience into the enchanting realm of peatlands.
More than just art, Kathrine Geoghegan's work is a reflection of our interconnectedness with nature. Her paintings serve as windows, inviting us to explore, appreciate, and protect the delicate balance of our environment. To delve deeper into Kathrine's creations and stay updated on her upcoming exhibitions, please visit her website.
We also encourage you to visit 'The Peatlands' immersive video installation, now housed in Birr. For more details, visit the official "The Peatlands" website.