Peat Hub Ireland is a 1-year project funded by the Irish Environmental Protection Agency (EPA) that will work to collate evidence to move towards the sustainable management of Irish peatlands. It is one of five EPA-funded projects that will support LIFE IP Peatlands and People.
The project will gather multi-disciplinary knowledge and draw on specialist expertise to identify trends, risks and opportunities, and highlight knowledge gaps relating to peatland ecosystems and restoration. This knowledge will then be synthesised to a form that supports decision-making at policy, management, and community levels.
The project team is made up of Principal Investigator Dr Florence Renou-Wilson at University College Dublin (UCD), Dr Kate Flood, Post-doctoral Researcher at UCD and Dr David Wilson, Senior Scientist at Earthy Matters, who together will draw evidence from multiple interacting research themes to map and assess the research carried out on Irish peatlands over the last 20 years.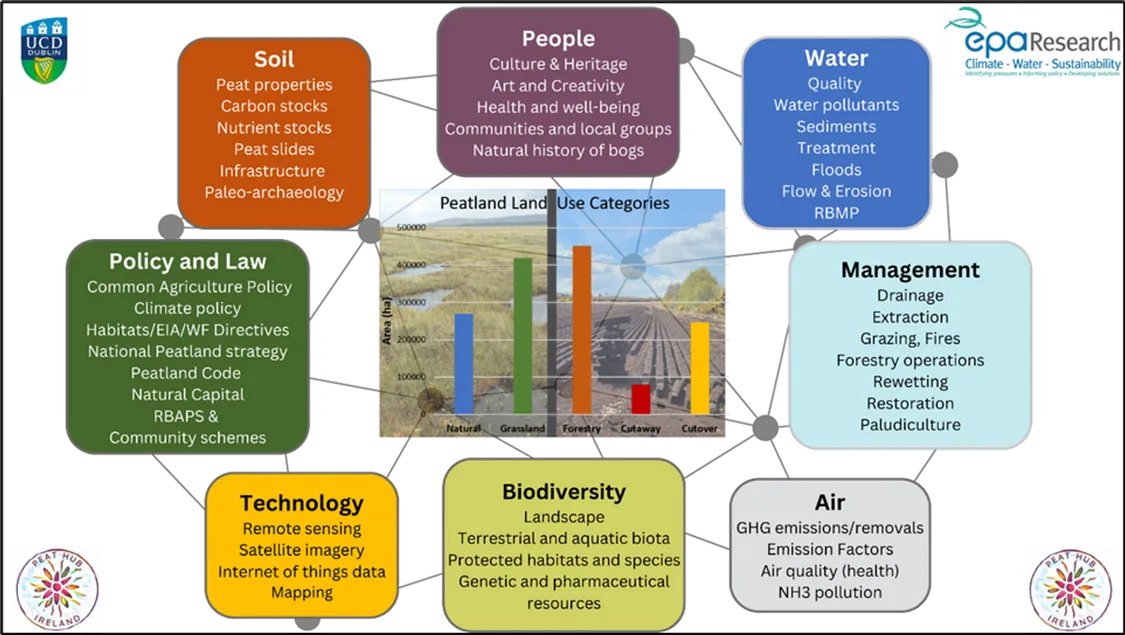 Speaking about the project, Florence says "In the last two decades, peatlands have been recognised as dynamic parts of the Irish landscape and research on these amazing ecosystems has expanded rapidly. Peatlands are constantly undergoing changes through biogeochemical processes, as well as through human activity and climatic variability. We aim to go beyond the state of the art by collating a wealth of information from multi-disciplinary sources to present key findings under the main research themes."
Analysing, mapping and connecting the knowledge from various disciplines and sources and identifying synergies will deliver a clear picture of the trends and risks associated with Irish peatlands while providing expert knowledge on opportunities.